Hi there friends!! Happy New Year!! It's Wednesday and that does mean it's time for a new Sketch Challenge but this week is a bit different. Last week was the last Challenge at Sweet Sketch Wednesday... This week is the first Challenge at
Sweet Sketch Wednesday 2
!! With Arlana and Judi stepping down, I have been asked to continue the Challenge. This is a new adventure for me as there is so much that goes on behind the scenes of a Challenge Blog... I really had no idea!! But, I am excited to give it a go...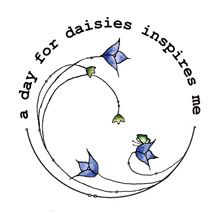 This week's Sponsor is A Day for Daisies.
A Day For Daisies began as a small token to a constant need to create. Pairing a love of whimsical illustration, with a tidy graphic design background, Tammy S Thompson, produced her first stamp designs, introducing irresistibly sweet stamps to crafters around the globe. Drawing inspiration from the beautiful world around us, she strives to express the happiness and gratitude she feels in each stamp design she creates.
Presently, A Day For Daisies has grown to over 3,000 Digital Stamps with a quickly expanding line of Best Loved Clear Polymer. A Day For Daisies has been published and awarded over the years for innovative and unique designs created to inspire the crafting community. With a whole team behind her now, she remains passionate about illustration, obsessed with quality, and dedicated to her customers. A Day For Daisies thanks you for your ideas, comments, and creativity!
This week's Winner will receive a $12 gift certificate to A Day for Daisies!!
And here is our first Sketch...
And here is my card...
I hope you will head on over to the new Blog
Sweet Sketch Wednesday 2
!! Check out the recent posts - lots of info on the new Challenge along with some Twists and Prizes... Why not become a Follower?? Check out our new
Facebook
page =)
I can't wait to see everyone's creations throughout the week!!
Thanks so much for stopping by!!
Blessings to you for a Wonder-filled New Year!!