Hi there friends!! Happy Wednesday to you!! Hope those of you in the North are surviving these Winter months without too much trouble. We have had over 3 feet of snow in one week with more to come by the weekend - the question is, where to put it!!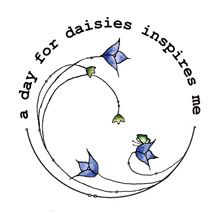 One of my favorite things to do when it's so cold and snowy out is to head to my craft room CRAFT!! I've been making cards and knitting this winter and enjoying every minute of it!
Today's post features my card for this week's Challenge over at
Sweet Sketch Wednesday 2
. The Sponsor is
A Day for Daisies
. I chose the image Nest in the Cherry Tree. Reminds me that Spring will come... =)
Here is this week's Sketch
And, here is my card...
Head on over to
Sweet Sketch Wednesday 2
and check out the rest of the Design Team's cards. Lots of wonderful inspiration to get your creative juices flowing.
Thanks for stopping by!!
Blessings to you!!